Week two of the public impeachment hearings against President Trump is drawing to a close with nine witnesses testifying.  Seven have already testified publicly, four on Tuesday and three on Wednesday.  Another two are set to testify on Thursday, the last day of the scheduled hearings with wall-to-wall coverage of the proceedings, marking the end of public testimonies of the impeachment hearing show that has exhausted a nation. 
Tuesday and Day 3 of the public impeachment hearings had a total of four witnesses testifying before the House Intel Committee, two of whom were Democrats' key witnesses and two were called by Republicans.  
The morning opened with testimonies from two career diplomats turned White House National Security Advisers, Lt. Col. Alexander Vindman and Jennifer Williams.
Both Vindman and Williams who testified during the third public impeachment hearing against President Trump were material witnesses on the July 25 call between Presidents Trump and Volodymyr Zelensky of Ukraine.  The call became the basis of the impeachment inquiry after they expressed concern over it.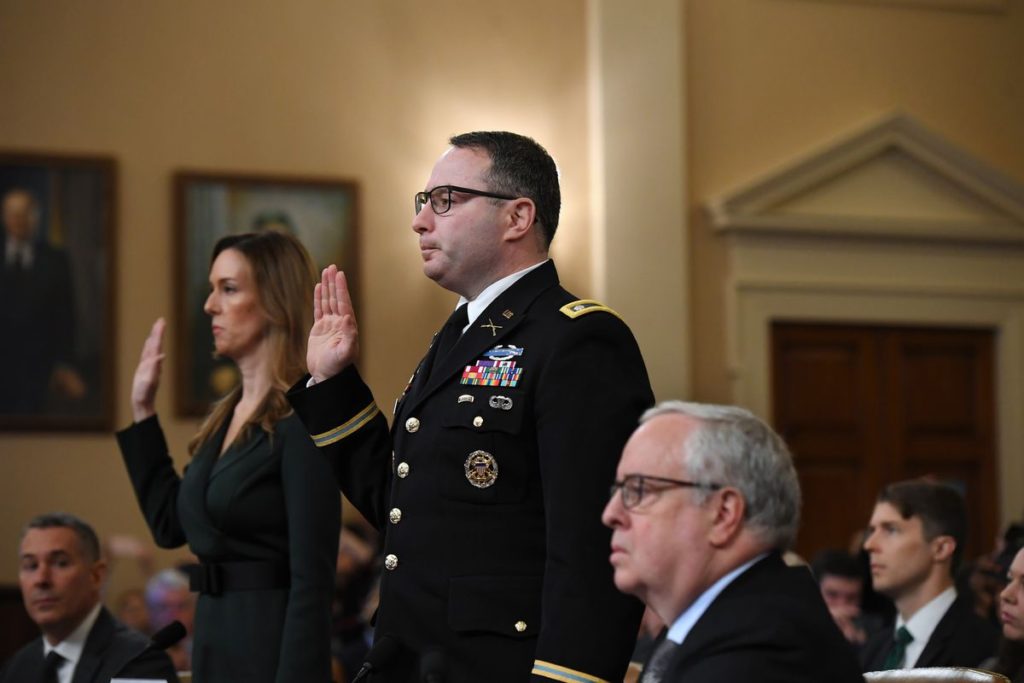 At the same time, it wasn't lost to many observers that these two Democrat witnesses were not really fans of the current U.S. President, hence they have been branded "Never Trumpers".  The term itself has become synonymous with those opposed to President Trump including going back to when he was candidate Donald Trump running for office.  Among them are career politicians, bureaucrats in the State Department and other agencies including foreign policy wonks and others within the intelligence apparatus.
On Tuesday afternoon, Republicans finally had a chance to have their own witnesses appear before the Intelligence Committee during the fourth public impeaching hearing. These were Kurt Volker, former Ambassador and U.S. Special Envoy for Ukraine and Tim Morrison, who recently resigned as the National Security Council official on Russia and Europe.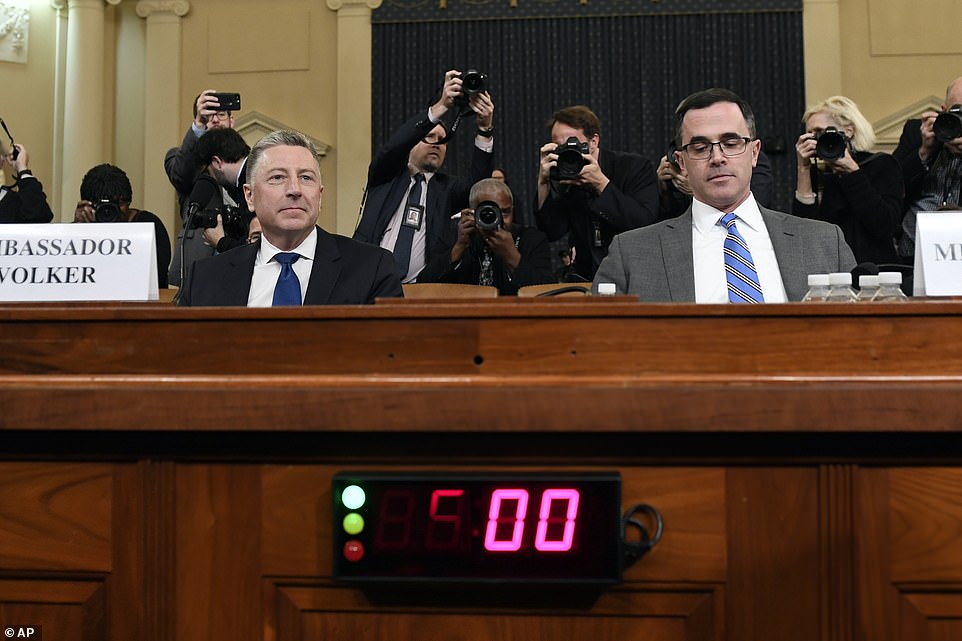 Although both were critical of the call and the manner in which may have been conducted, they nonetheless rejected the notion of a quid pro quo or that President Trump ever engaged in any extortion or bribery.  They also denied earlier allegations by Williams and Vindman while portraying the latter as an individual whose "judgment" could not be trusted and was a "leaker" of classified information. 
Wednesday, Day 4, was touted as a big day because of one of the three witnesses who was to provide the fifth public testimony against President Trump.
Gordon Sondland, the Ambassador to the EU was by touted by Democrats as the one that would provide a make-or-break moment in this final week of the impeachment hearings. Not only was he a member of the Trump Administration, he was within the inner circle of the President, a close ally and had been hand-picked for that position by Trump himself.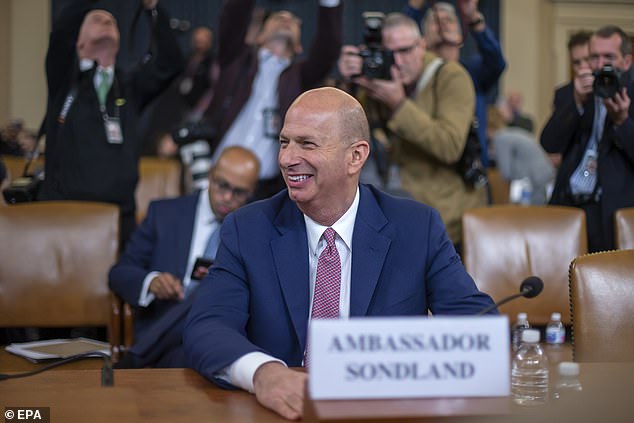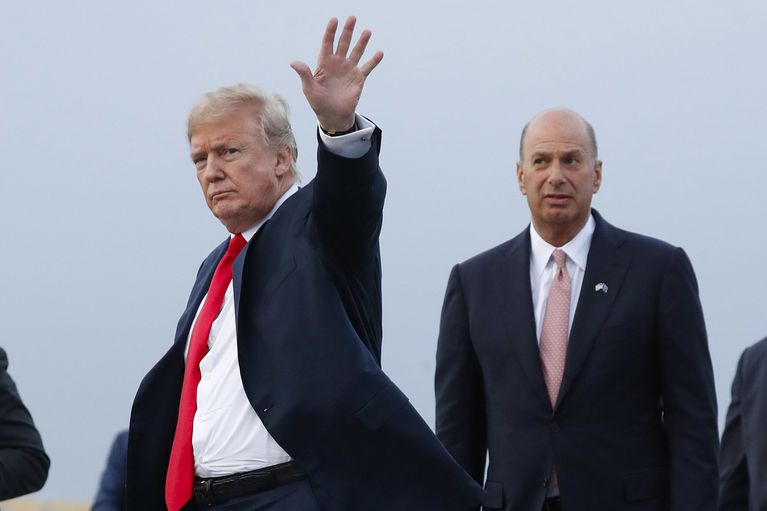 Although two other witnesses, Laura Cooper and David Hale from the Defense and State Departments respectively, testified at the sixth public impeachment hearings later in the early evening, their testimonies hardly made any significance as they were overshadowed by Ambassador Sondland's opening testimony that sucked the attention of the day, if not for the entire week.
The stage had been set and anticipation was already high after Sondland's Wednesday morning testimony had been hyped as the one with the smoking gun that would finally bring down the Trump Presidency .
For anyone who had been following the proceedings closely, Sondland's Opening Testimony was more than a bombshell damning to President Trump because it implicated him directly together with senior members of his Cabinet.  The 23-page, detailed testimony had all but assured Democrats they have gotten their smoking gun after he cemented their charges of a "quid pro quo", extortion and bribery all in one statement.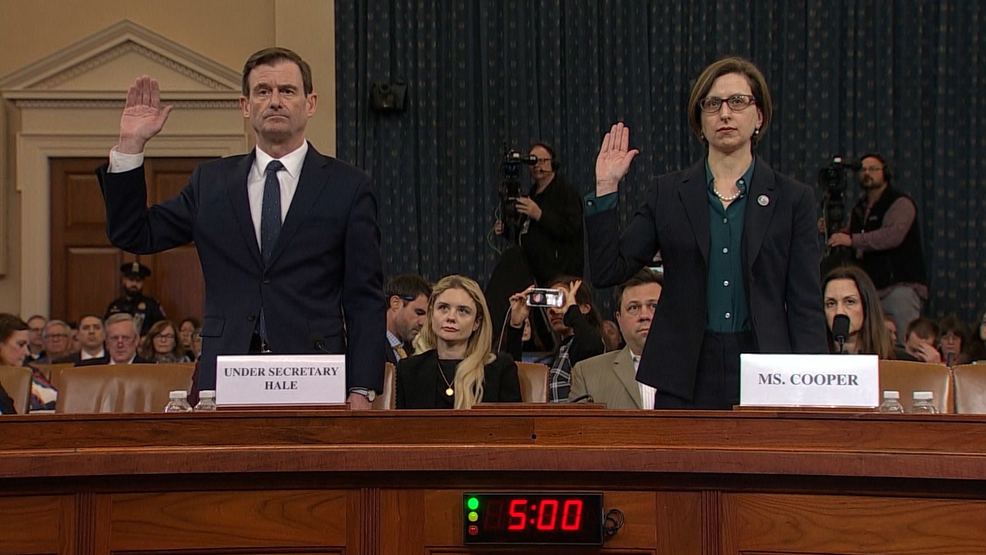 The statement was devastating. It sent shockwaves throughout Washington and undoubtedly, in the halls of power in the western world and across the globe. Democrats and their allies in the left-leaning mainstream media were giddy and like a kid on a sugar rush, that joy was shot-lived.
As Republicans rushed to rally around President Trump, it didn't take long for Sondland's outlandish and bombastic statement that was laced with unsubstantiated allegations to crumble like a soft cookie once it came under scrutiny and cross-examination. 
It took a span of 5 hours of cross-examination and running around in circles for Sondland to finally agree that his "bombshell" testimony was nothing but unsubstantiated allegations devoid of fact but largely based on presumptions, hearsay, guesses and assumptions. The Ambassador whom Democrats had seen as the centrepiece of their entire impeachment hearing schedule that was packed with nine witnesses this week, crumbled under Republican scrutiny, dwelling then yet another blow towards and denying them a blockbuster ending to a sham, unfair and one-sided process.
Sondland on the other hand, was  discredited and exposed as a liar and an overly pompous individual with an inflated ego who exaggerated things and made up a lot of stuff.  
Nonetheless, his testimony was the most explosive in the impeachment inquiry to date.
With Sondland's testimony and cross-examination consuming 6 hours of the day, the last two testimonies on Wednesday evening barely made a dent as people tuned out and were fatigued by the last one. Nobody remembers as, like the previous other testimonies, they were largely based on hearsay, assumptions, personal views, "senses" and "feelings" that it did not produce any change to public support for the process.
The seventh and last hearings with testimonies of former Russia specialist Fiona Hill and State Department aide David Holmes who claims to have overheard a call conversation between the President and Sondland discussing the Bidens, will be held on Thursday morning afterwhich lawmakers are set to leave town for a break until December 3.
After three days of back-to-back hearings and wall-to-wall coverage, there is still no clear and credible evidence to charge the President with.  The hearings with their shifting charges have failed to dramatically move the needle of public opinion that has been split over impeachment. 
© Copyright 2019 Manyika Review.