The iconic Paris landmark Notre-Dame was gutted by a huge fire on Monday evening that burned through the gothic cathedral for nearly eight hours before it was put out.
According to breaking news reports that filtered throughout the day as it happened, the fire was first discovered in the roof after 6:00 pm. Due to its intensity, the iconic 850-year old spire collapsed and hour later and thereafter, the roof.



The fire which is said to have started in the attic may have been burning for 2 hours before finally surfacing and was spotted.  
The 850-year old cathedral is a tourist magnet and an architectural wonder attracting well over 13 million visitors each year. The cathedral which took over 100 years to build starting in 1163 was popular around the world because of its religious significance to the Christian faith.
While the eight-centuries-old spire collapsed, the bell towers and the outer walls were saved.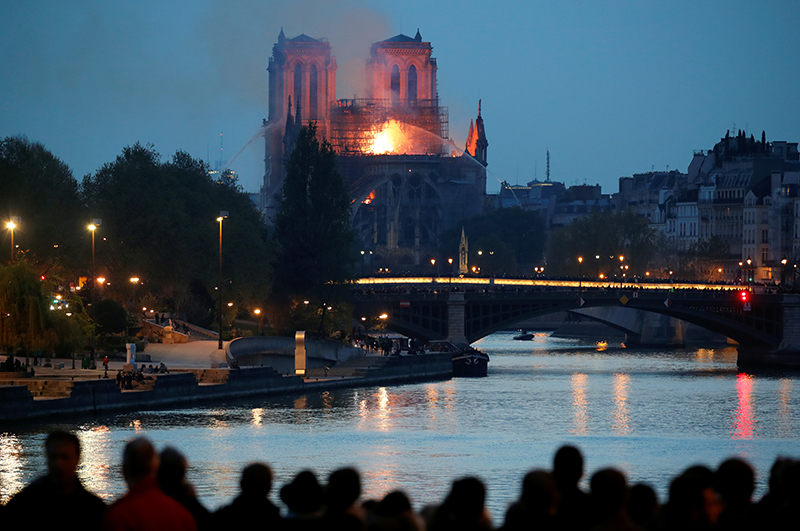 The cathedral was in the midst of renovations, with some sections under scaffolding.
As people all over the world watched in awe, hundreds of onlookers gathered along the banks of Seine river in Paris singing liturgical music and reciting prayers in vigil throughout the night as others across the city travelled to join them.
Although the source of the fire is not known, local authorities were quick to dismiss any links of terrorism to the blaze.  They are yet to definitively determine the actual cause of the fire.  
Copyright © 2019 Manyika Review. All Right Reserved.