U.S. freshman congresswoman Rep. Ilhan Omar, a Democrat from Minnesota has done it again. This time, she has offended more Americans with her insensitive comments about the 9/11 terrorist attacks after saying, "Some people did something" – a dismissive downplaying of the significance of the incident.
The first hijab-wearing Muslim lawmaker to be elected into office in the United States is accused of trivializing the worst terrorist attack on U.S. soil by radical Islamic terrorists who hijacked and flew two planes into the Twin Towers at the World Trade Centre in New York on September 9/11 killing almost 3,000 people.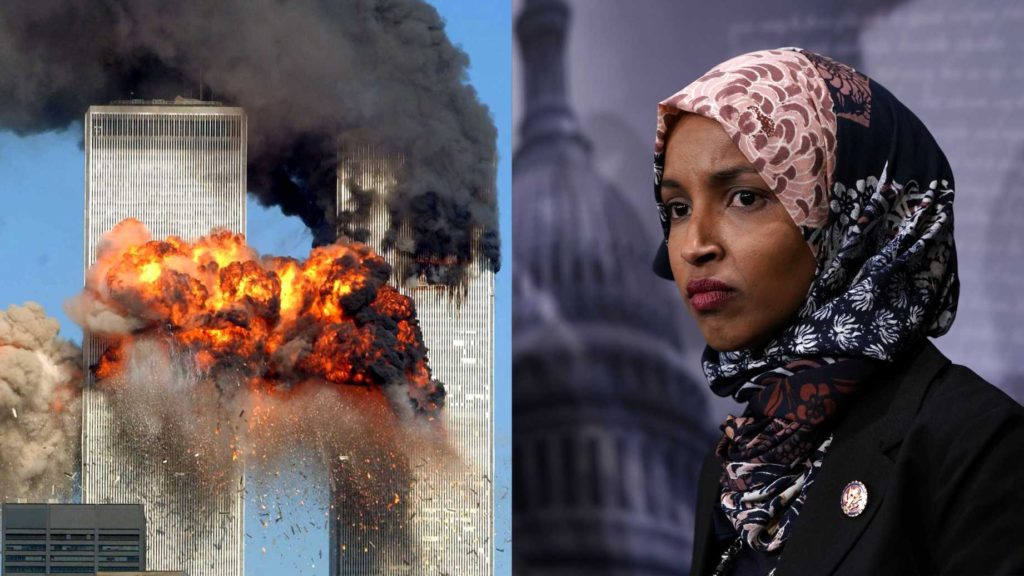 Speaking at a fundraising event for the Council on American-Islamic Relations (CAIR) on March 23, Omar complained to a receptive audience of her peers about losing "civil liberties" and the "discomfort of being a second-class citizen" in a country that has elected her – a first, hijab-wearing, Muslim Congresswoman.
In her speech to a largely Muslim audience at a Hilton hotel in L.A., Omar said the following: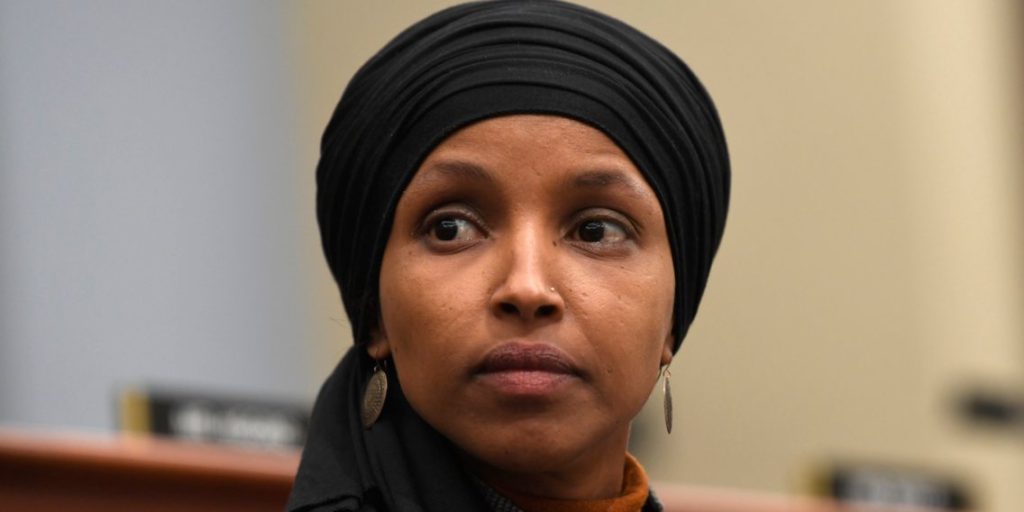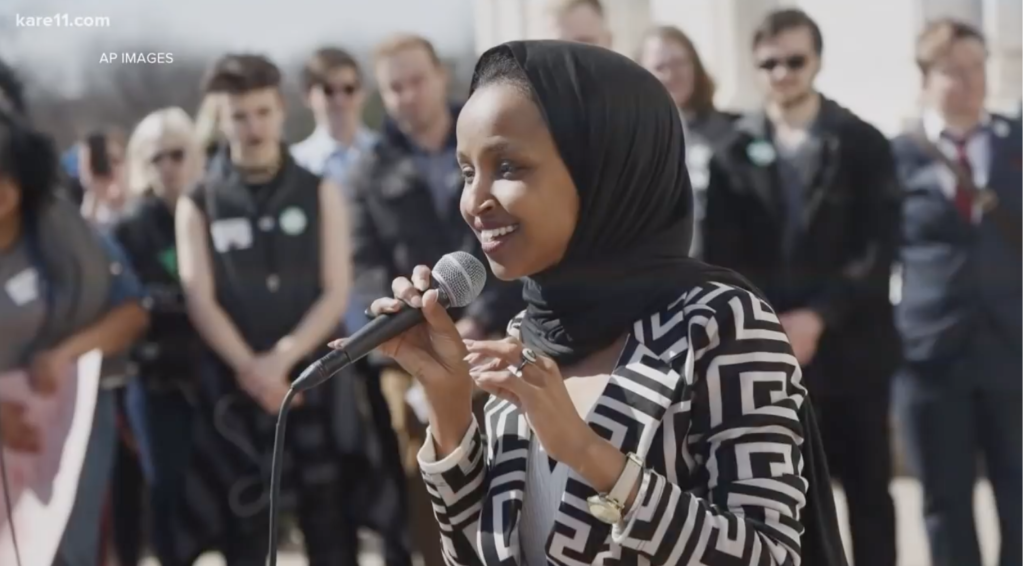 "CAIR was founded after 9/11 because they recognized that some people did somethingand that all of us were starting to lose access to our civil liberties."
Once again, in a typical ingratitude manner that has come to define Ilham Omar, she then proceeded to complain.
"For far too long, we have lived with the discomfort of being a second-class citizen and frankly, I'm tired of it and every single Muslim in this country should be tired of it," she said to a round of applause from her receptive audience that has iconized her.
As a point of note, the anti-American Islamic organization, CAIR, wasn't founded post-911 as inaccurately stated by the Congresswoman. Instead, it was founded in 1994.
Unsurprisingly, the responses and condemnations to the highly insensitive remarks were swift and strong.
President Trump who has publicly called for the Democrat freshman from Minnesota to resign, weighed in on Twitter by posting a video of the burning Twin Towers on 9/11 captioned, "WE WILL NEVER FORGET!"
In one of the strongest responses so far, the New York Post issued a scathing rebuke to Omar's comments by publishing an op-ed with the headline, "Here's your something: 2,977 people dead by terrorism."
The cover of the publication featured the horrific picture of the burning Twin Towers during the attacks.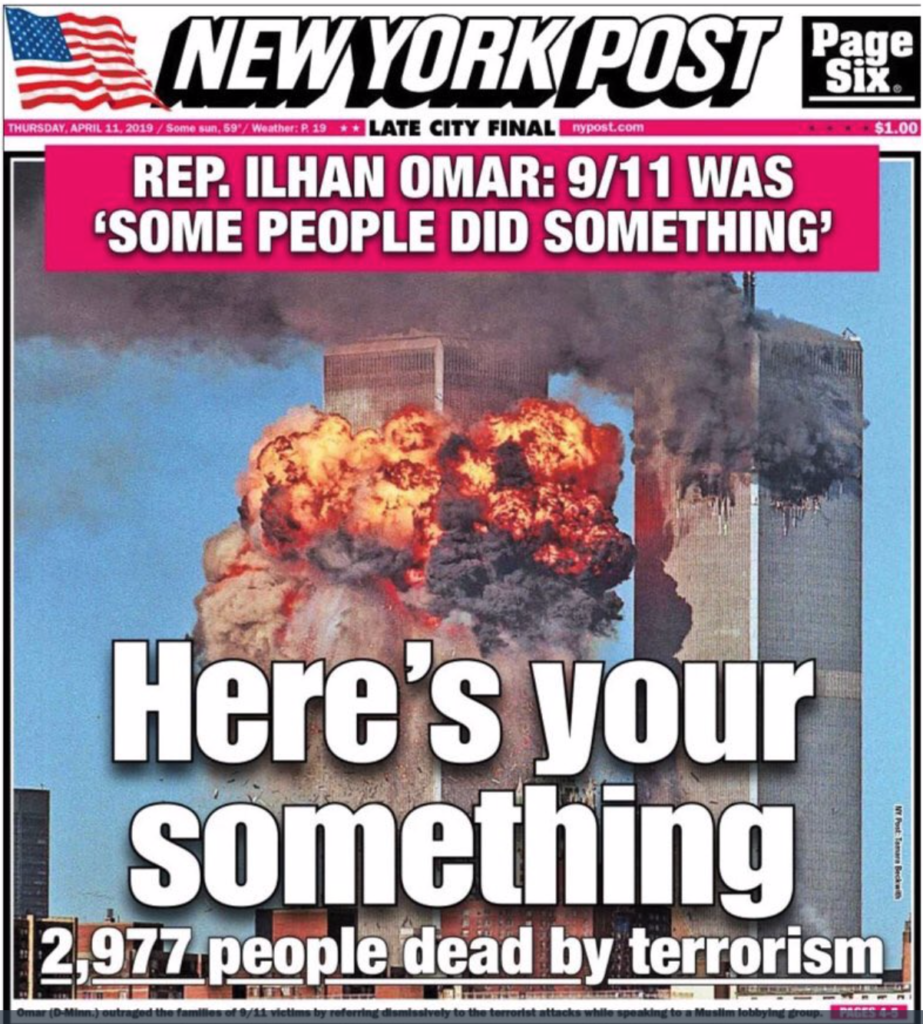 One of the first responses from an elected official to the remarks came from an Afghanistan war vet, Republican Congressman from Texas Rep. Dan Crenshaw.  He responded on Twitter by calling Omar's remarks, "Unbelievable."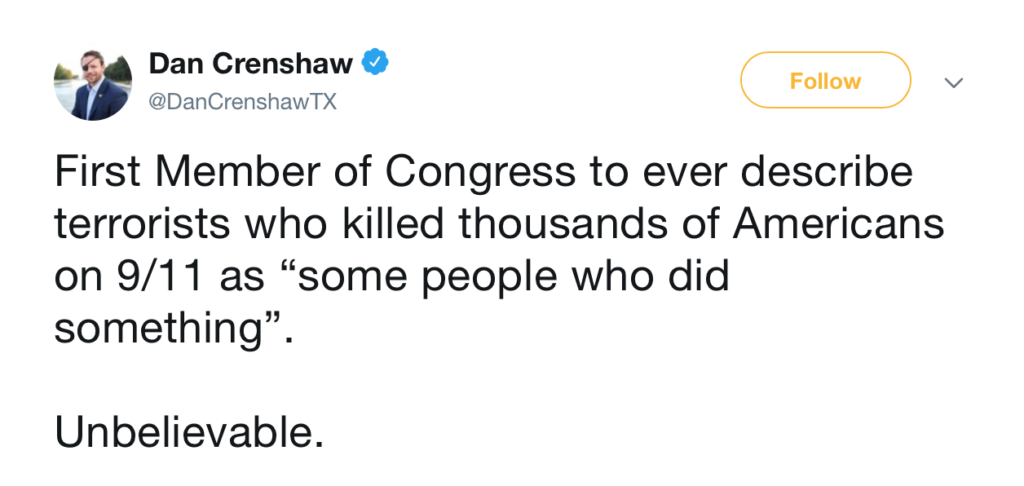 Although there has been continued reluctance from Democrat lawmakers to openly condemn and criticize Ilhan Omar over this one including other numerous controversial comments and tweets, some did speak out.
Democrat Congressman Rep. Max Rose  of New York who is also an Afghan war vet described his fellow Democrat's 9/11 comments as both "insensitive" and "offensive" to Fox News anchor Dana Perino during an interview.
"Let's be very clear about this, this is insensitive and it's offensive," he said.
"On 9/11 radical terrorists attacked us. New York City lost thousands of people… lost hundreds of cops, firemen, first responders, more than any other district in America," he added.
The 37-year old Somali-born refugee from Kenya is not new to controversies.  Instead, she has become known for all the wrong reasons: being anti-Israel, her anti-American stances and anti-Jewish tropes. As a result of her unfiltered, less-throughout comments and tweets, ,she is finding herself alienated from mainstream America and within the legislature that she now saves on.  
Furthermore, her ingratitude and open hostility towards the adopted country that took her in and her family from a refugee camp in Kenya, educated her and then gave her a historic opportunity unlike any other country in the world by electing her into Congress, she has continued to agitate at the same time as the patience of many Americans is slowly wearing thin.
The controversial remarks which caused national outrage came to light only after an Australian Imam posted a video clip of her speech on Twitter bringing to attention Omar's trivialization of the 9/11 attacks.
In addition to bringing to attention the Congresswoman's downplaying of the significance of the incident, he also called her out for her justifying "the establishment of a terrorist organization (CAIR) on US soil."
Jim Riches, a retired New York Fire Department (FDNY) Chief whose son, a fire fighter was killed during the  World Trade Centre attacks, penned a scathing response to the Congresswoman.
"What Congresswoman Ilhan Omar said about Sept. 11 was disgraceful. She dismissed thousands of people being murdered like it was an everyday occurrence when she said 'some people did something.
"I think Omar owes an apology to America. She owes an apology to the families," he continued.
"She came here from Somalia. She was educated here. We took care of her. And now she's saying 9/11 was nothing? Until the time that you realize the importance of 9/11 as the worst day in American history, I call for your removal from Congress," concluded Riches.
Despite the outrage, Omar has remained defiant and refuses to apologize to the country.  Instead, the freshman Congresswoman has doubled down by taking on President Trump and labelling every criticism against her controversial comments and tweets as either "Islamophobia" or an "incitement of violence" against.
These continued controversial statements and tweets have put the Democrat party in a pickle with the American electorate's patience slowly wearing thin. If history has anything to go by, it is only a matter of time before this woman throws another offensive and bigoted comment either about America or her biggest targets – Israel and the Jewish people in a short time.
Copyright © 2019 Manyika Review. All Rights Reserved.