After a marathon of hearings over the past few weeks with the last one held last Wednesday, House Speaker Nancy Pelosi came out the following day to formally call on the Democrat House panel to draft Articles of Impeachment against President Trump.
Making the announcement during a press conference on Thursday, Pelosi asked members of her party on the Judiciary Committee to move ahead with their case against the President and draw up articles for a vote.
"The President leaves us no choice but to act. Sadly, but with confidence and humility, with allegiance to our Founders and a heart full of love for America, today I am asking our Chairman to proceed with Articles of Impeachment."
The rush to proceed with an impeachment largely seen to be devoid of facts came in less than 24-hours after another failed attempt by the Democrats-controlled Judiciary Committee to convince the public to support the effort.
At the same time, three Constitutional scholars they brought in as witnesses, in a remarkable display of partisanship, further eroded whatever little faith was remaining in the process when they turned out to be partisan hacks whose obvious animus towards President Trump became more evident throughout the proceedings.
In response, House Minority leader Rep. Kevin McCarthy, a Republican, accused Democrats of trying to overturn the 2016 election and the people's will simply because they know that despite everything they have done to soil and undermine this President, they still cannot defeat him in a fair election. Citing one of the Founding Fathers, Alexander Hamilton, the House GOP leader said the following:
"This is the day that Alexander Hamilton feared and warned would come," he said of Democrats.
"This is the day the nation is weaker because they surely cannot put their animosity or their fear of losing an election in the future infront of them, all the other things the American people want."
In response, Trump called the process "a hoax" and dared the Democrats who seem gung ho on impeaching him to "do it now" and "fast."
The push by Pelosi for an impeachment without any evidence of a crime by President Trump and on a partisan basis has turned many voters against it. It has also raised more questions on the woman whom many have hailed as a seasoned politician on her rationale for proceeding in a sham process in the first place. Not that long ago she held a different and very stark position to the current one.
Speaking to the Washington Post in March, Pelosi said she would not proceed with impeachment unless it was "bipartisan" and that it would divide the country.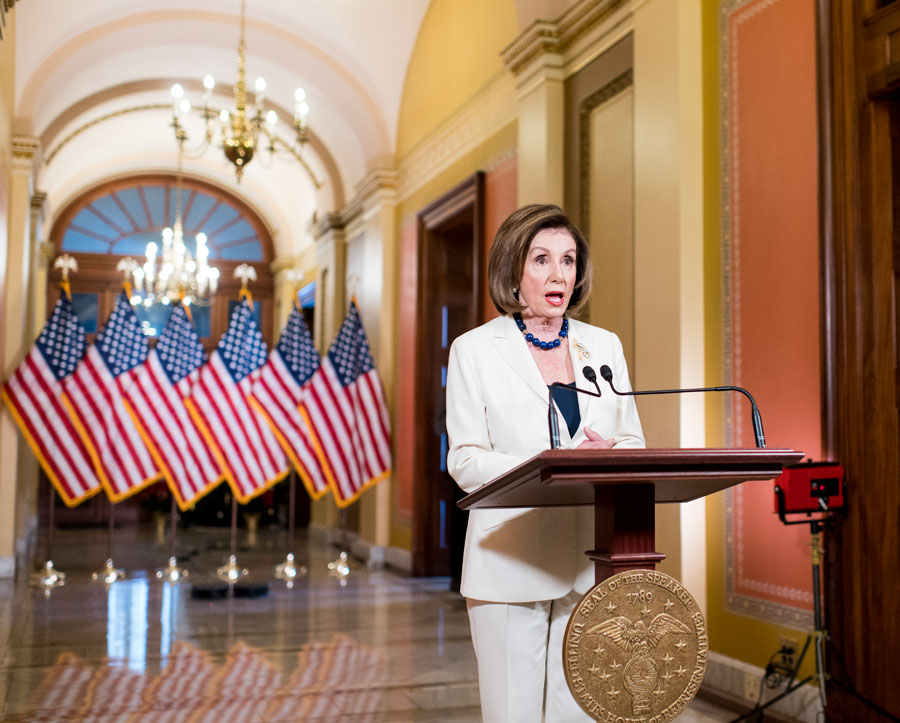 "I'm not for impeachment," she had pointed out then.
"This is news. I'm going to give you some news right now because I haven't said this to any press person before. But since you asked, and I've been thinking about this, impeachment is so divisive to the country that unless there's something so compelling and overwhelming and bipartisan, I don't think we should go down that path because it divides the country" adding, "And he's just not worth it."
How much of a difference a few months can make.
So far, the House Speaker seems to have contradicted her own words and statement. She has, instead, chosen to put the country in a destructive path is both partisan and polarizing in a nation that is already divided.
© Copyright 2019 Manyika Review. All Rights Reserved.