WASHINGTON: President Trump on Wednesday struck a deal with Congressional Democrats to extend the Debt Limit until December 15 to avert a government shutdown and provide disaster relief.  This will be the first debt hike of the Trump Administration.
The bipartisan agreement with Senate Minority Leader Charles (Chuck) Schumer and House Minority Leader Nancy Pelosi is a rarity in Washington, a city where partisan politics is the name of the game.  Trump reached with a compromise with the Democrats much to the chagrin of Republican Senate and House leaders.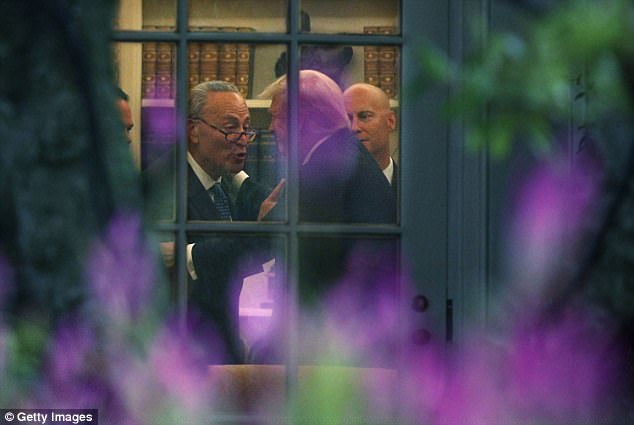 President Trump described the talks at the White House as cordial and professional.
"We had a very good meeting with Nancy Pelosi and Chuck Schumer.  We agreed to a three-month extension on debt ceiling, which they consider to be sacred, very important.  Always we'll agree on debt ceiling automatically because of the importance of it," Trump told reporters aboard Air Force One without mentioning GOP House Speaker Paul Ryan or Senate Leader Mitch McConnell.
Democrat Senate Leader, Chuck Schumer who got what he wanted was happy to share the outcome, "Today was a good day in a generally very partisan town…This is a really positive step forward. It was a really good moment of some bipartisanship."
"The nation can breathe a sigh of relief. We've avoided default. We've avoided government shutdown," said Schumer to the chagrin of GOP Congressional leaders.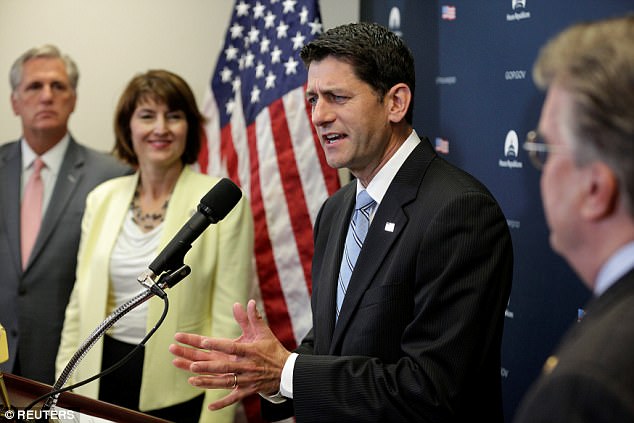 Meanwhile, Republic Senate Majority Leader Mitch McConnell, whose views were overruled by the President said he would bring the agreement to the Senate floor for a vote.
"His feeling was that we needed to come together, to not create a picture of divisiveness at a time of genuine national crisis.  And that was the rationale," said the GOP leader of Trump.  "I'm confident, for his decision to agree to what I'm going to be offering on the Senate floor."
A Republican congressional aide briefed on the meeting said Republican leaders pushed in the meeting for an 18-month debt limit hike, then floated six months as a possibility. The aide said Pelosi and Schumer dismissed a six-month hike and Trump then agreed to the Democrats' proposal.
"The Pelosi-Schumer Trump deal is bad," said GOP Senator, Ben Sasse of Nebraska.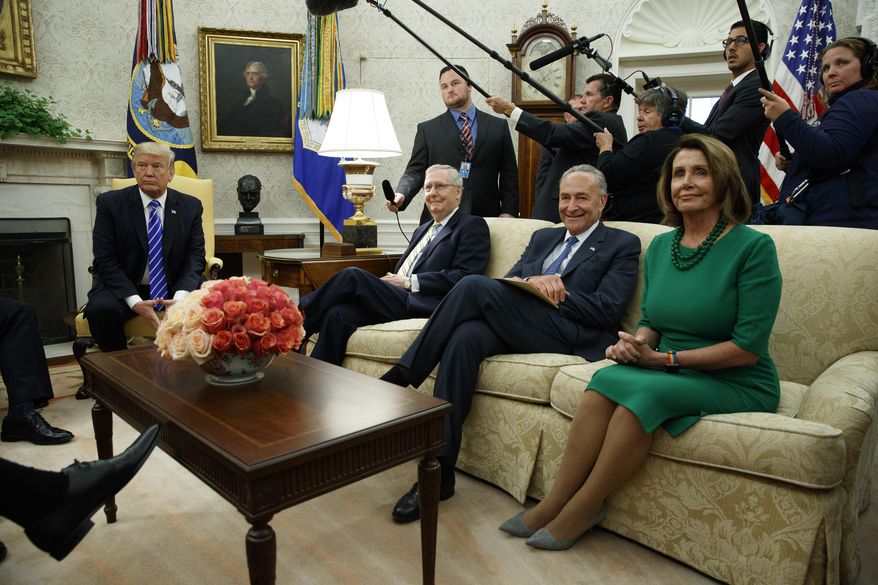 Washington is often crippled by bitter partisanship that has at times left the U.S. capital dysfunctional with nothing ever being done as President Trump and his predecessor's Administration have experienced.
Word of the deal helped push the dollar to the day's highs against the euro and yen, and gave a lift to benchmark U.S. equity indexes. Yields on most Treasury debt securities rose as the reduced risk of a default undercut safe-haven flows that had supported bond prices over the last several days.
Republicans on Capitol Hill had been seeking a longer debt that would prevent another crisis and government shutdown in December but Trump sided with Democrats who wanted a three-month increased instead to the ire of his own party.
Earlier in the day, Ryan had called the Democratic proposal for a three-month increase a "ridiculous and disgraceful" idea that would "play politics with the debt ceiling."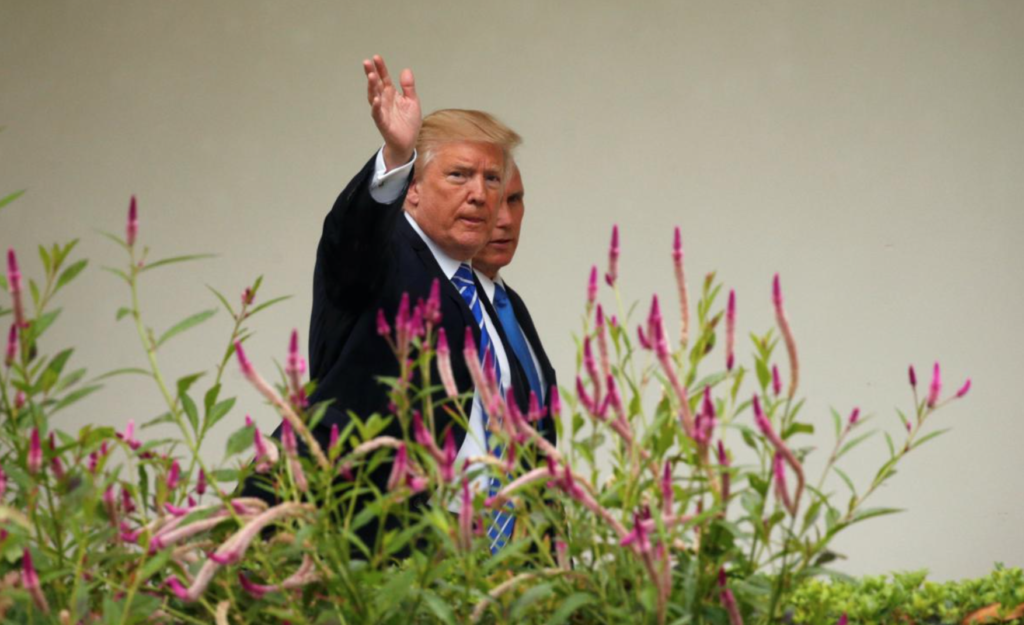 According to a source, President Trump also brushed aside objections from every Republican in the room including Treasury Secretary, Steven Mnuchin.
"It seemed pretty spontaneous," and Trump wanted to "break the deadlock" said the source, adding that he was frustrated with the standoff between Democrat and Republican lawmakers.
President Trump also expressed optimism toward Congress reaching a deal to decide the fate 800,000 illegal immigrants or DREAMERs after he rescinded on Tuesday, DACA, a five-year-old program that had protected them from deportation.
"I'd like to see a permanent deal, and I think it's going to happen. I think we're going to have great support from both sides of Congress," said Trump.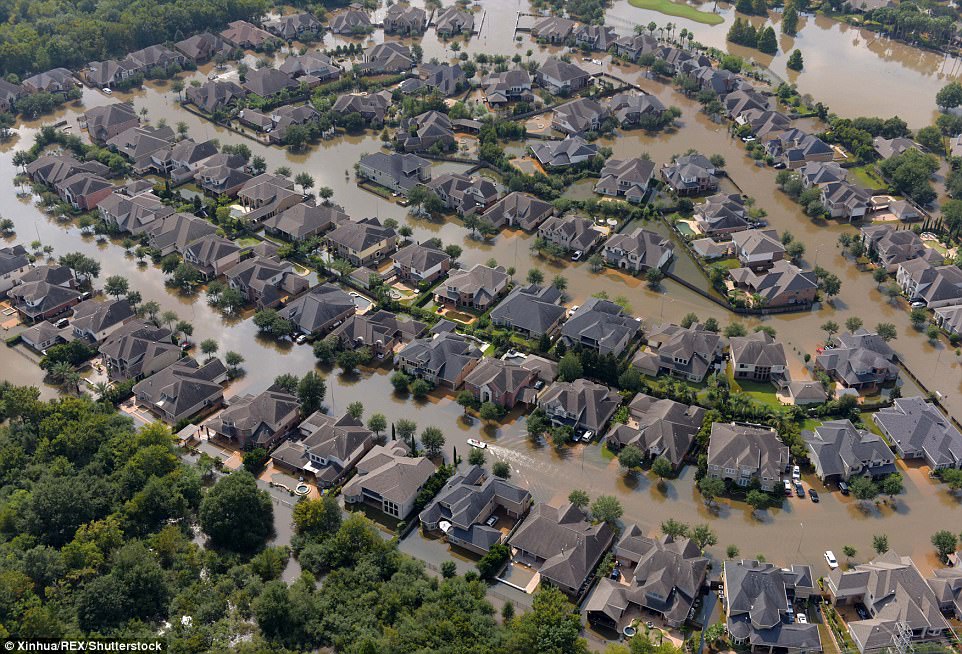 Schumer urged Republicans to put forward legislation protecting the Dreamers without other issues attached while Paul Ryan insisted that any legislation to address DREAMERs would also need to address the issue of border security.
The House on Wednesday approved roughly $8 billion in initial Emergency Aid for relief and rebuilding after Hurricane Harvey, which tore into Texas on Aug. 25. The measure, which provides $7.4 billion for FEMA and $450 million for the Small Business Administration, will now go to the Senate and could be on the President's desk for signature by the end of the week.
Copyright © 2017 Manyika Review.  All Rights Reserved.