In his first presidential debut at a ritzy, private Gridiron Club's annual press Dinner Gala on Saturday, President Trump had fun dishing out pointed one-liners as well as endured barbs from the Trump-Hating media and political rivals.
"This is one of the best times I've had with the media," said Trump. "This might be the most fun I've had since watching your faces on election night," he later declared.
Without doubt, President Trump came to the white-tie banquet armed with a flame thrower, setting anything and everything alight including his own family, himself and his administration officials.
The private event known to never allow any cameras inside and has never had any leakages from its hundreds of attendees, this year broke with tradition as it leaked like a faucet.  President Trump's entire 35-minute roast was leaked to the media the moment it was over.
In an event whose motto was "Singe but not burn," the impression was that the President came to the white-tie banquet Saturday night armed with a flamethrower – spraying the room, setting anything and everything alight including his own family, his top administration aides, even himself.
Below are some of the best lines and zingers from the President:
Trump's Leaked Zingers
Putting aside his signature criticism of the media, President Trump said, "Nobody does self-deprecating humour better than I do.  It's not even close."
Although humbled at this year's invitation, he  took a slight dig at the media saying, "I was very excited to receive this invitation and ruin your evening in person.  That's why I accepted."
– On his son-in-law, Jared Kushner: "We were late tonight because Jared could not get through security."
– On Attorney General Jeff Sessions: "I offered him a ride over and he recused himself.  What are you going to do?"
On Vice President Mike Pence: "He is one of the best straight men you're ever going to meet…he is straight.  Man!"  He later added, "I really am proud to call him 'The Apprentice'…but lately, he's showing a particularly keen interest in the news these days.  He is asking, 'Has he been impeached yet?'  I don't like that."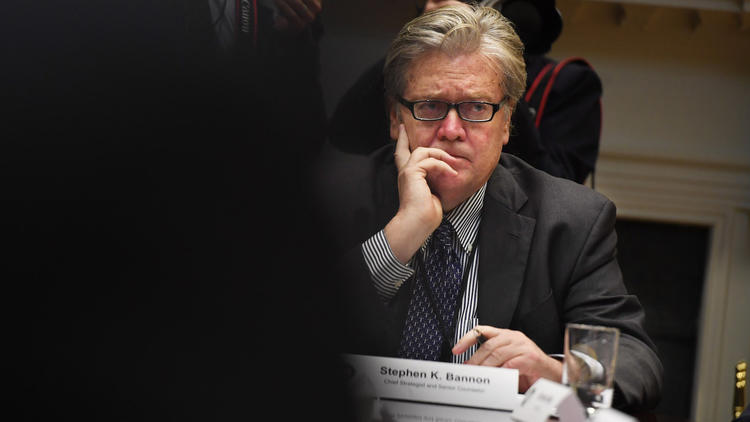 – On his former Chief Strategist Steve Bannon: "That guy leaked more than the Titanic."
– On CNN (and Steve Bannon): "It's been a very tough year for CNN.  They've lost a tremendous amount of credibility this year and your best reporter, Steve Bannon."
– On The New York Times: "I'm a New York icon.  You're a New York icon and the only difference is, I still own my buildings."
– On First Lady Melania Trump: Although President Trump said he doesn't understand why everyone is saying #FreeMelania, he said she is actually having a great time.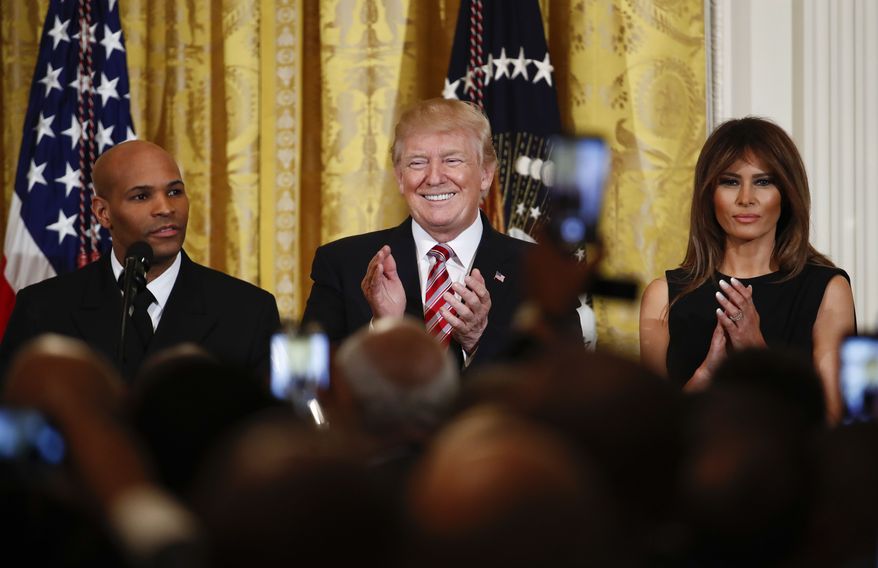 – On impeachment: "You can't be impeached when there's no crime. I thought that was going to get a much better laugh. Melania said, 'Use it, it's good.'"
– On The White House turnover: "So many people have been leaving the White House. It's invigorating since you want turnover. I like chaos. It really is good. Who's going to be the next to leave? Steve Miller or Melania?"
– On chaos at the White House: "Another calm week at the White House. We finally have it running like a fine-tuned machine."
– On his rising poll numbers: "As I'm sure you've seen, we're now riding very high in the polls, which is hard to believe considering I never get any good press. But I just hit 50 in the Rasmussen poll. A lot of people said I wouldn't be able to do so well after losing my so-called chief strategist. But somehow, we're still doing great without Omarosa."
– On North Korean dictator Kim Jong-un: "I won't rule out direct talks with Kim Jong-un…As far as the risk of dealing with a madman is concerned, that's his problem, not mine."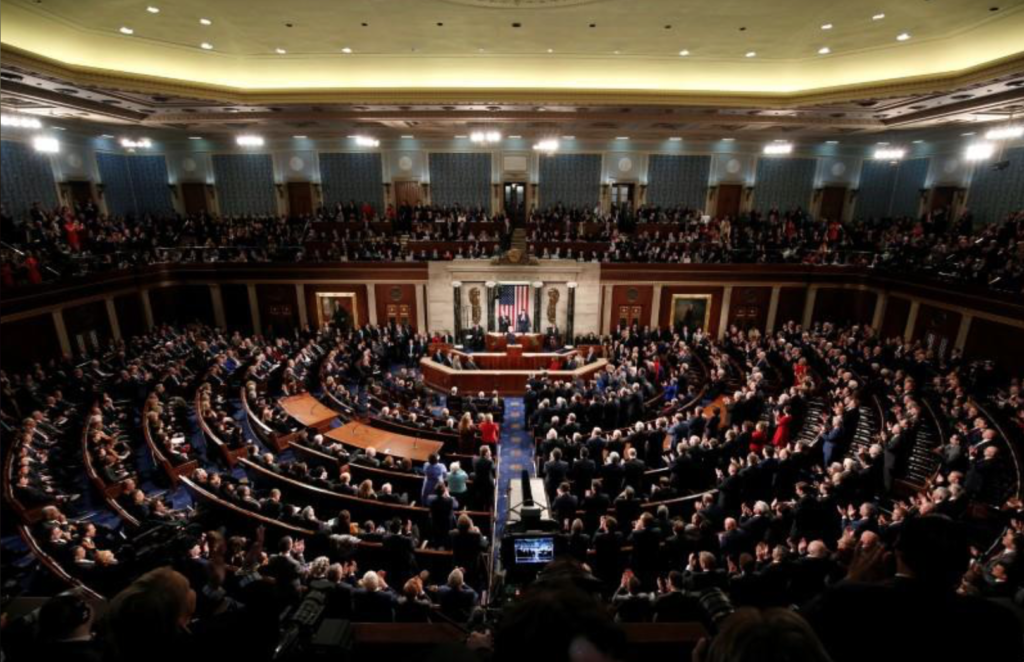 – On dissension in the GOP: "It might be hard for you to believe, but I do love gatherings like these. They give you a chance to socialize with members of the opposition party, it's very important."
– On reducing global warming: "We're going to reduce the carbon footprint when we travel by shrinking the press pool so we only have room for Sean Hannity, Lou Dobbs and Judge Jeanine."
– On Dreamers and the 2020 presidential election: "But we were talking about the Dreamers and quite honestly, Democrats can fantasize all they want about winning in 2020. … Those are the dreamers."
– On former Vice President Joe Biden, (or "Sleepy Joe,") and his potential run for President in 2020: "I would kick his a— like no other. … Man, would he be easy."
– On rumors Oprah Winfrey might be weighing a run in 2020: "She says she'll run only if she gets the go-ahead from the Almighty — all right, Oprah, go ahead and run."
Towards the end and in typical Trumpian style, he couldn't help himself but throw one more dig at his usual nemesis, the Trump-hating media,
"I just want to say this, this is one of the best times I've had with the media — this might be the most fun I've had since watching your faces on election night."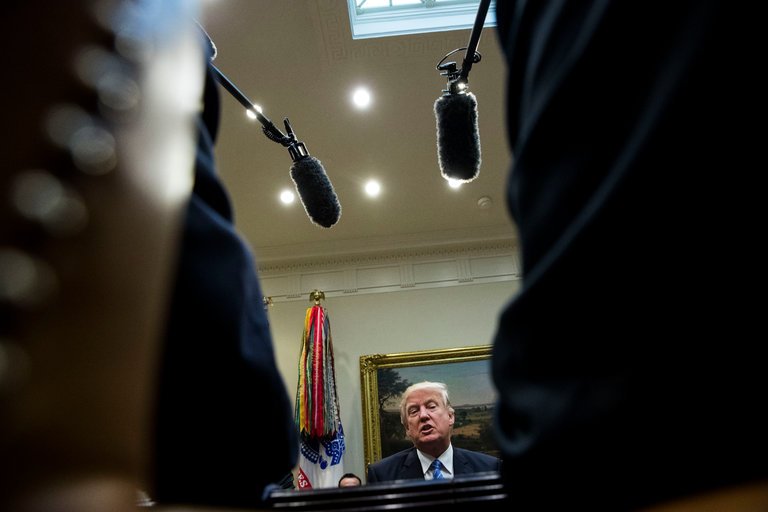 After all the jokes, he ended the evening on an upbeat note.
"I want to thank the press for all you do to support and sustain our democracy."
The annual white-tie Gridiron Gala held at the Renaissance Washington Hotel not far from the White House attracted about 660 members of the press corps, media executives, Administration officials and military officials.  It traces its roots to 1885 and since then, every President has attended at least one Gridiron event during their tenure.
While President Trump may have attended the ritzy Gridiron Dinner Gala, there is no word if and whether he will, this year, attend the White House Correspondents' Association Dinner in April.  After this surprising performance, many hope that he actually shows up and bur the place to the ground with his brutal jokes.
Copyright © 2018  Manyika Review.