Democrats are holding the United States government hostage in order to force President Trump and his young administration to give legal status and citizenship to about 800 000 illegal immigrants in the country. It is also about President Trump and his Administration.
The White House has pointed out that Democrats are "hell bent" on a government shutdown despite Presdient Trump's efforts to work out a spending deal with them in a bid to avert the shutdown.
Democrats want to use a government shutdown to mark the First Anniversary of the Trump Inauguration on January 20, 2017 and the day the Trump Administration officially took over the White House.  They want to make the government shutdown a major issue not the economic and other successes achieved by President Trump in is first year in office despite insurmountable objections from all angles – Democrats, some Republicans, the media, Hollywood and the world.
It is also about discrediting and impeaching this President.  On Friday morning, the House easily defeated another attempt by Democrats to try to begin impeachment proceedings again President Trump, hours before government shutdown.  The vote was defeated 355-66 in contrast to the 364-58 of a similar vote last month.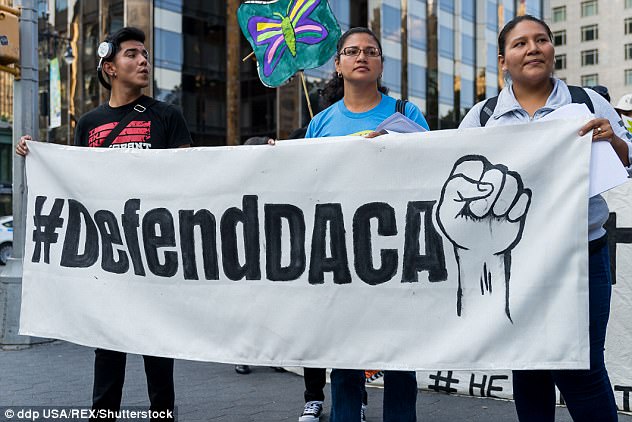 Democrats while not opposed to anything on the proposed Spending Bill, they have weaponized a government shutdown over DACA and are fixated on the protection of illegal immigrants and giving them status over concerns of American citizens.
"This is not about policy, it's about politics," said Marc Short, the White House legislative director. "It seems that they are just hell-bent on getting to a shutdown."
White House budget director Mick Mulvaney said the President is "actively working right now to try to prevent a shutdown."
"There's no way you can lay this at the feet of the president," he said.
Mulvaney also laid the blame of weaponizing government shutdowns as political leverage to Barack Obama saying unlike in 2013, should a shutdown take effect at midnight, it "will look very different than it did" under his administration.
He pointed out that, "The military will still go to work, they will not get paid.  The Border Patrol will still go to work, they will not get paid. The Parks will be open; they weren't before. Things like the trash won't get picked up. The post office will be open. We're going to manage the shutdown differently."
Copyright © 2018 Manyika Review.  All Rights Reserved.