Several people are reported to be injured after a vehicle drove onto a side walk in New York's Times Square mowing down pedestrians.
New York's Fire Department has confirmed that one person is in custody, 2 injured and 1 dead.  The incident occurred during a busy day and at a very populated area.  The deceased victim is an 18-year old girl who was with her sister at the time she was struck.  The name has been withheld until next of kin is notified.
Investigators say the incident is not terrorism-related but a serious  case of drunken driving.  The driver who is currently in custody is a 26-year old man from Bronx with a criminal record and history of DWI (Driving While Intoxicated). He is a veteran of the Armed Services.
Times Square is currently on lockdown with investigation still going on.  Traffic to and around the area has been completely sealed off.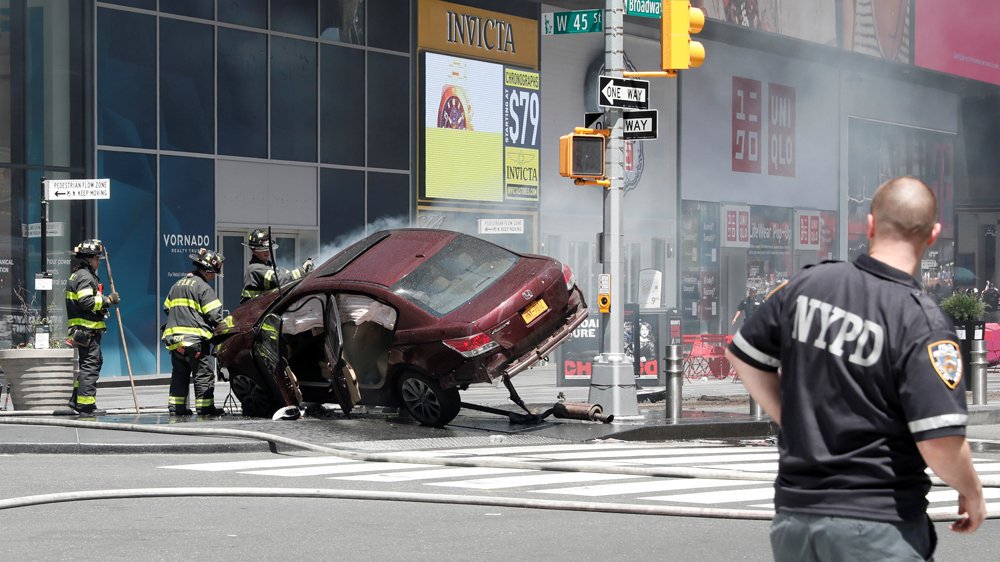 The driver is 26-year old Richard Rojas a US citizen from the Bronx with a history of driving under the influence.  He has two previous arrests of DWIs.  Rojas was taken to the South Precinct where he is being held.
Reports say he was under the influence when the accident occurred.
The vehicle, a maroon Honda Accord was going the wrong direction when it jumped over the curb mowing down passengers during the busiest time of the day.  The vehicle travelled for 3 blocks before it crushed at the corner of Broadway and W 45th Street.
New York's Times Square is a very popular global tourism magnet with an average 400 000 people in the area at any given time of the day.  FBI Agents are searching the vehicle for evidence.
The NYPD says it received a call around 11:55 am about an accident on Times Square.
The incident is said to be contained with the driver remaining in custody.
Copyright © 2017 Manyika Review.  All rights reserved.