The UN on Tuesday demanded an immediate investigation into the brutal murder on Sunday of a prominent Maldivian liberal blogger, Yameen Rasheed, 29, who was critical of Islamist extremism and government corruption.  Yameen Rasheed was stabbed to death early Sunday morning in his apartment in the troubled honeymoon destination.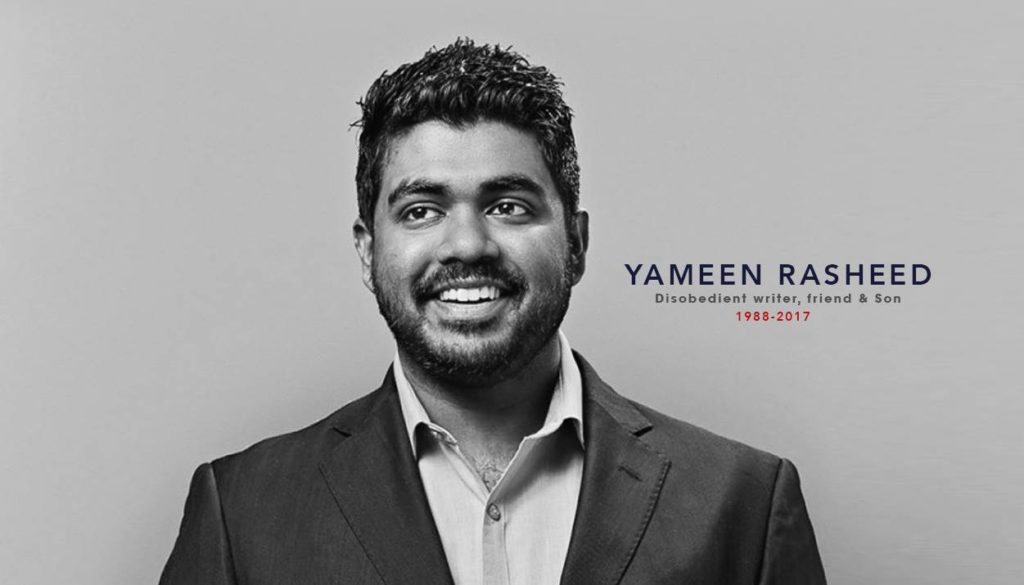 The High Commissioner for Human Rights, Zeid Ra'ad Al Hussein condemned Sunday's stabbing of Yameen Rasheed calling on the government to ensure the safety of dissidents in the troubled honeymoon destination.  He urged a swift and thorough inquiry into the killing, meeting international standards.
"Mr. Rasheed's killing comes in the context of what appears to be an upsurge in arrests and prosecutions of the political opposition," Zeid's spokesperson Ravina Shamdasani said in a statement. She noted that Rasheed, 29, had received death threats in December and lodged complaints with the police, yet had to push to get his concerns registered.
In a statement, the government condemned the killing and said President Abdulla Yameen had instructed state agencies to bring the perpetrators of "this heinous act to justice".
Maldives is facing significant numbers of radicalised Maldives youths who have enlisted to fight for ISIS in the Middle East. Moderate Islamists no longer feel safe as they are threatened with violence on social media platforms for their "anti-Islamic" views.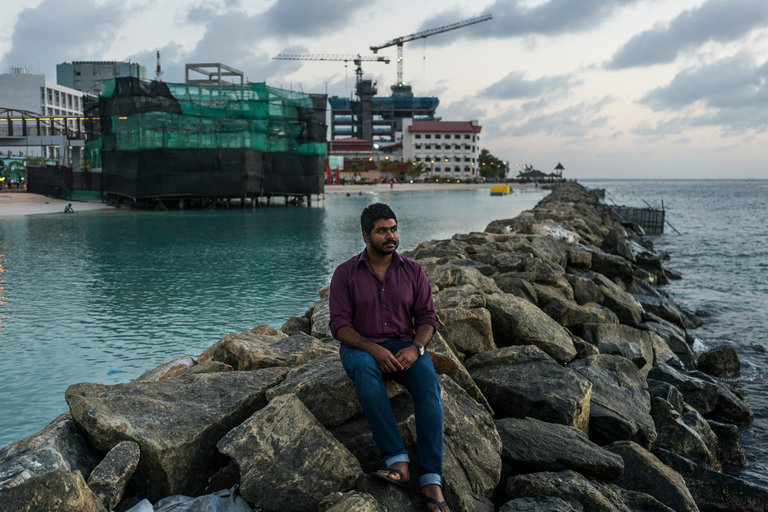 According to friends, Rasheed had received death threats the after he started criticizing Islamic extremism and radical Islam.
The 29-year-old blogger worked as a computer programmer and software developer at the Maldives Stock Exchange and identified himself as "disobedient writer" in social media. He ran a website called The Daily Panic.  His blog was known for poking fun at Maldives' religious and political establishment, something that led to him receiving death threats.
Rasheed maintained the blog in his spare time, writing that he aimed to report "the unfiltered truth, the sickening facts, the gruesome details, and – because this is the Maldives – the painfully obvious".
Yameen Rasheed was found in the stairwell of his apartment building in Malé with multiple stab wounds to his neck and chest early on Sunday morning.  He died shortly thereafter in hospital, family members said.
His blog, The Daily Panic, had garnered a large following for its droll reporting and biting satire of what Rasheed called "the frequently unsatirisable politics" of the country, home to about 340,000 Sunni Muslims.
Rasheed's father, Hussain Rasheed, said he learned his son had been hospitalized long after he had been dead, before 5am on Sunday morning. "They told me they could not show me the body, but I said was his father, I had the right to see him before it was cleaned up," he said.
Yameen Rasheed's burial ceremony was held later on Sunday, where friends paid tribute  to him. The family was distressed and "very angry," he added.
Zaheena Rasheed, a friend and editor of the Maldives Independent news website, said he had been receiving regular death threats which he was reporting to the police.
The government said it will investigate the killing and has called for information leading to the arrest of the perpetrators. Exiled opposition leader and ex-president Mohamed Nasheed has also demanded an international investigation.
The main opposition Maldivian Democratic Party (MDP) in a statement, called for an international investigation into Rasheed's death as the incident followed a "spate of similar stabbings of prominent politicians and political commentators".
"The MDP strongly believes that the Maldivian police service does not possess the capacity, credibility or political impartiality to conduct such a high-profile investigation on its own."
Reuters